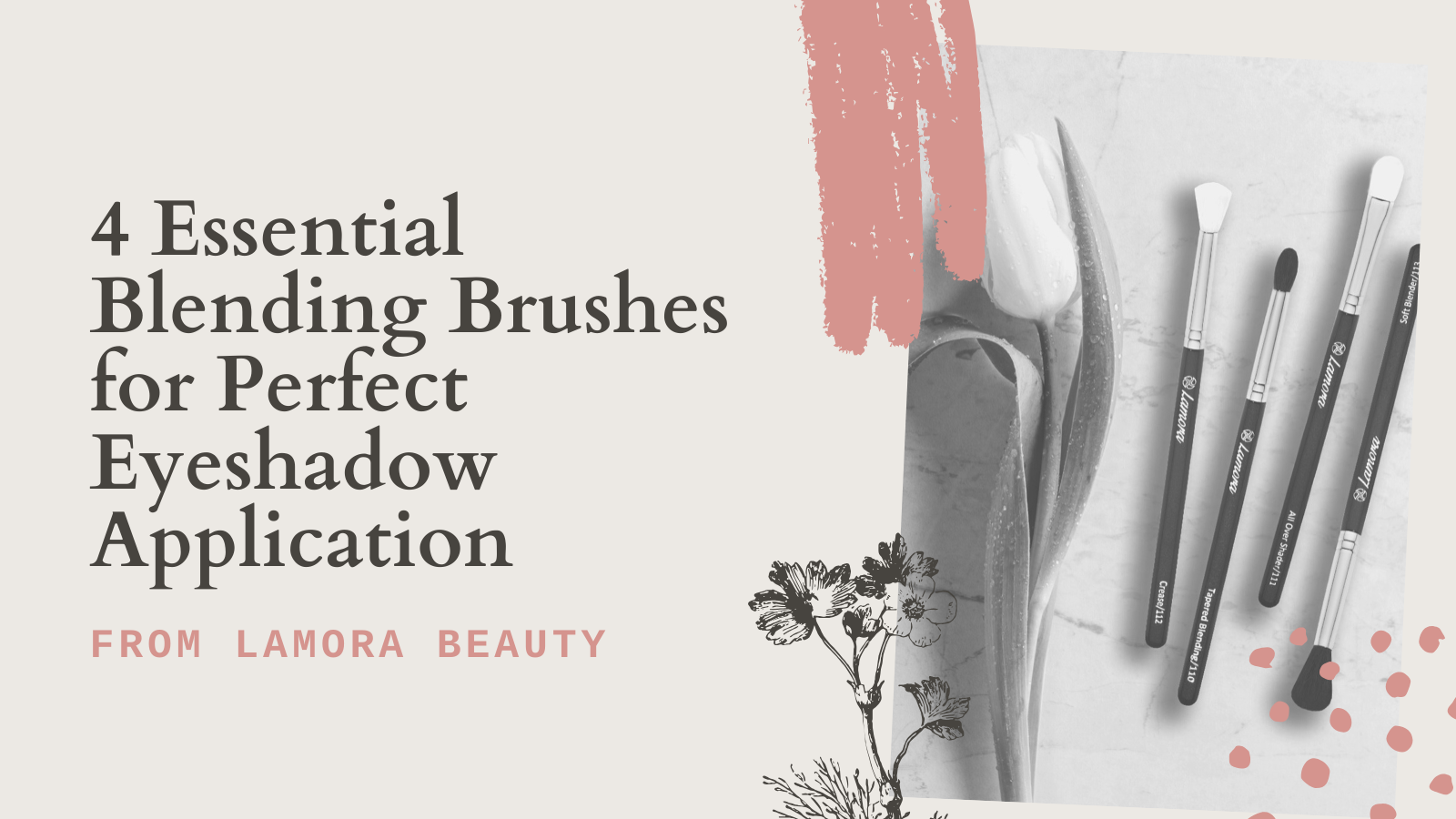 4 Essential Blending Brushes for Perfect Eyeshadow Application
Posted by
Lamora Beauty
on
All Over Shader
One of the most essential eyeshadow brushes, the fluffy all over shader has dense rounded bristles designed to pack shadow over the entire eyelid for a smooth and even finish.

Apply a medium-toned powder or cream eyeshadow by evenly sweeping the brush over your entire lid, starting from the inner corner of your eye (just above your tear duct) and working your way outwards. For a softer look, instead of patting the brush, use a sweeping motion with quick gentle strokes.
---
Crease Brush
The crease brush has long, soft bristles in a slightly rounded shape, making it perfect for blending with lots of movement to diffuse color in the crease, create definition in the outer corner of the eye, and help create softer transitions between color. For the crease, apply a darker pigment of cream or powder by sweeping the brush inside of the socket line, starting 1/4th of the way past the tear duct. Then, using the same color or applying a new color, pat the brush head onto the lid in a "v" or heart-shape at the outer corner of the eye
---
Tapered Blending Brush
The tapered blending brush is made of soft, dense fibers with a tapered tip for controlled application and blending of powder or cream products. This brush can be used for applying a more intense or precise crease color, to pack on pigment in the outer corner of the eye or below the lash line, and to apply highlight near the tear duct. This brush can also be used (with or without product) to blend these smaller detailed areas together for a flawless transition. Use small, swift back and forth motions to blend the color around the crease and outer corner.
---
Soft Blending Brush
This super soft blender brush is perfect for finishing off your eyeshadow look. The perfectly packed bristles fan out just enough to sweep over the entire lid, making it perfect for a full blend or to apply a finishing or setting powder.

Use a quick and controlled sweeping motion to blend eyeshadow pigments, working from the inside of the eye outwards, pulling the darker color towards the corner of the eye.

To apply a setting or finishing powder, apply the product, tap of excess, and lightly sweep the brush across the lid